The Maestro Skeleton The Beatles "Let it Be" Limited Edition Watch by Raymond Weil is a remarkable timepiece that pays tribute to the iconic rock band, The Beatles. This watch is a part of Raymond Weil's fourth Maestro The Beatles timepiece collection and is limited to 3,000 pieces worldwide.
This post contains links to products that you may purchase or subscribe online. If you make a purchase after following these links, we may receive a benefit and thus help our site to keep online.
Housed in a 40mm polished stainless steel case, the watch features a skeleton movement, revealed by a subtle, UK-figurative cut-out. The dial is two-toned, anthracite grey/beige, with an opening on the skeleton movement. The watch hands are centered on the city of Liverpool, a reminder of where the iconic story of The Beatles began.
The watch is adorned with a light brown "Vegan leather" polyurethane strap, boasting FSC-certified vegan material. It is a self-winding timepiece with a 38-hour power reserve, created in celebration of the UK and its legendary band.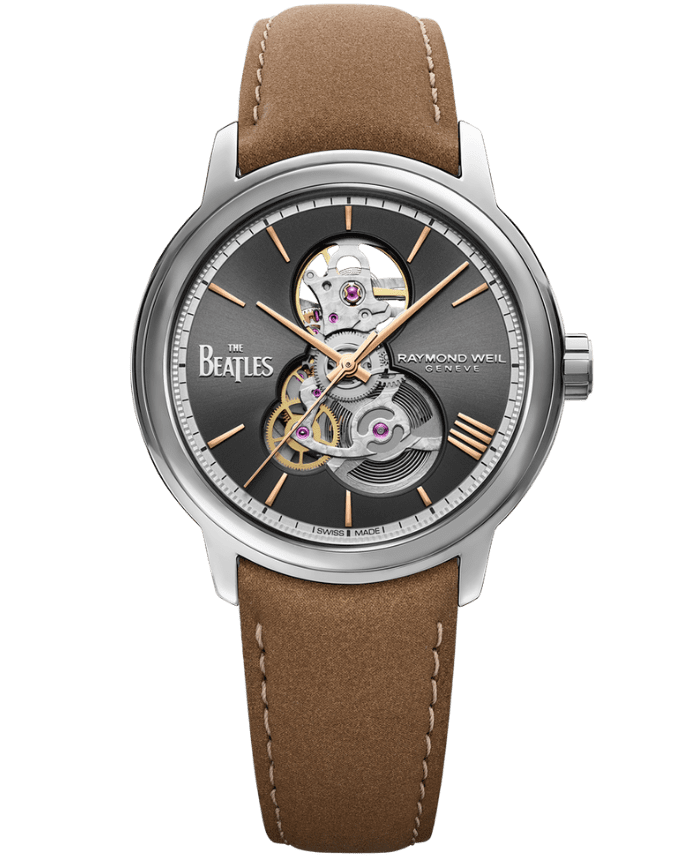 The watch is priced at $2,195.00 USD and is currently out of stock, but interested customers can join the waitlist.
This watch is a vibrant tribute to Raymond Weil's musical roots and a symbol of its unwavering horological virtuosity. It carries a timeless message of optimism and recalls the spirit of an entire era reviving images of The Beatles' impromptu concert on the rooftop at Apple Studios, which was their last ever performance.
For more information on Raymond Weil's collections, you can check out our detailed review of the Toccata Collection.
Other Raymond Weil Reviews